Daily living can get busy, and sometimes we can forget to take some time to rest and recover and that's where NormaTec compression comes in.
Compression therapy is an ever-evolving field, and NormaTec represents an innovative, proven method of recovery used by individuals, professional sports teams and sports medicine organizations around the globe.
Let's explore the NormaTec compression process, how it works, and some of the health benefits it can offer.
Getting to Know NormaTec Compression
NormaTec compression is a convenient wearable, targeted compression method with dedicated systems for your legs, hips, and arms. The recovery process can all be done at Recovery Lab
NormaTec is a form of compression therapy that applies pulse technology in a graduated method using precise control for customized pressure and personalized recovery. NormaTec is often used in recovery to help:
Increase circulation
Increase venous blood return from the lower legs, often seen in people with varicose veins
Remove lactic acid and other fluids caused by intense workouts.
Rehabilitate following injury
Speed up recovery
Depending on your needs or your particular recovery area, the three different attachments, Leg, Arm and Hip, are a convenient way for you to stimulate the recovery process.
Other features of NormaTec recovery systems include:
A color display panel
Different intensity levels
A Rechargeable battery
Bluetooth connectivity
A Recovery Lab Team Member can help you choose the best attachment for your specific needs.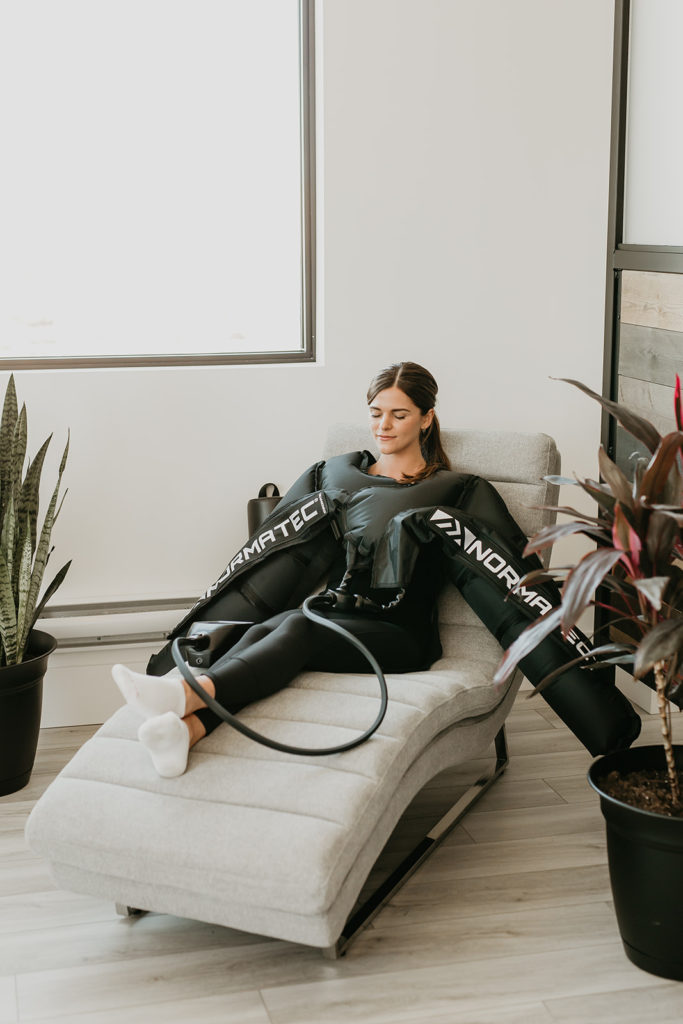 Benefits of Compression Therapy
Compression therapy is an ever-evolving field, and advancements in technology such as NormaTec, have made it a viable and effective form of recovery.
Compression therapy refers to controlled and targeted pressure that increases blood flow throughout your body to stimulate recovery. This form of recovery can be ideal for those who are immobile or have to sit for extended periods, whether it's for work or other reasons.
Athletes have seen benefits from compression therapy and NormaTec following exercise and saw improved performance recovery and prevention of delayed-onset muscle soreness.
With the different attachments, NormaTec recovery is a convenient way for you to stimulate the healing process in specific areas of the body
Recovery is an essential part of life. NormaTec compression therapy enhances your body's natural ability to recover by rejuvenating muscle tissue and reducing tightness and soreness.
Safety First
While NormaTec compression therapy is trusted and considered safe, your safety comes first, and there are different factors to consider.
You should consult your medical professional prior to using a compression therapy device if you're pregnant or have medical concerns, such as:
Acute pulmonary edema
Acute thrombophlebitis
Acute congestive cardiac failure
Acute infections
Deep vein thrombosis (DVT)
Episodes of pulmonary embolism
Wounds, lesions, infection, or tumors at or near the site of application
Where increased venous and lymphatic return is undesirable
Bone fractures or dislocations at or near the site of application
A Recovery Lab Team Member can help you every step of the way if you're considering compression therapy as a form of recovery.
The Road to Recovery
Your road to recovery can vary depending on your specific needs, and a Recovery Lab Team Member can help go over your options.
Whether you're an athlete and need to rehabilitate after injury or just want to improve your healing process, NormaTec compression can help promote full-body healing conveniently and effectively. Book an appointment at Recovery Lab to learn more about NormaTec compression therapy and how it can help you.